Shopping Basket
Your Basket is Empty
There was an error with PayPal
Click here to try again
Thank you for your business!
You should receive an order confirmation from Paypal shortly.
Exit Shopping Basket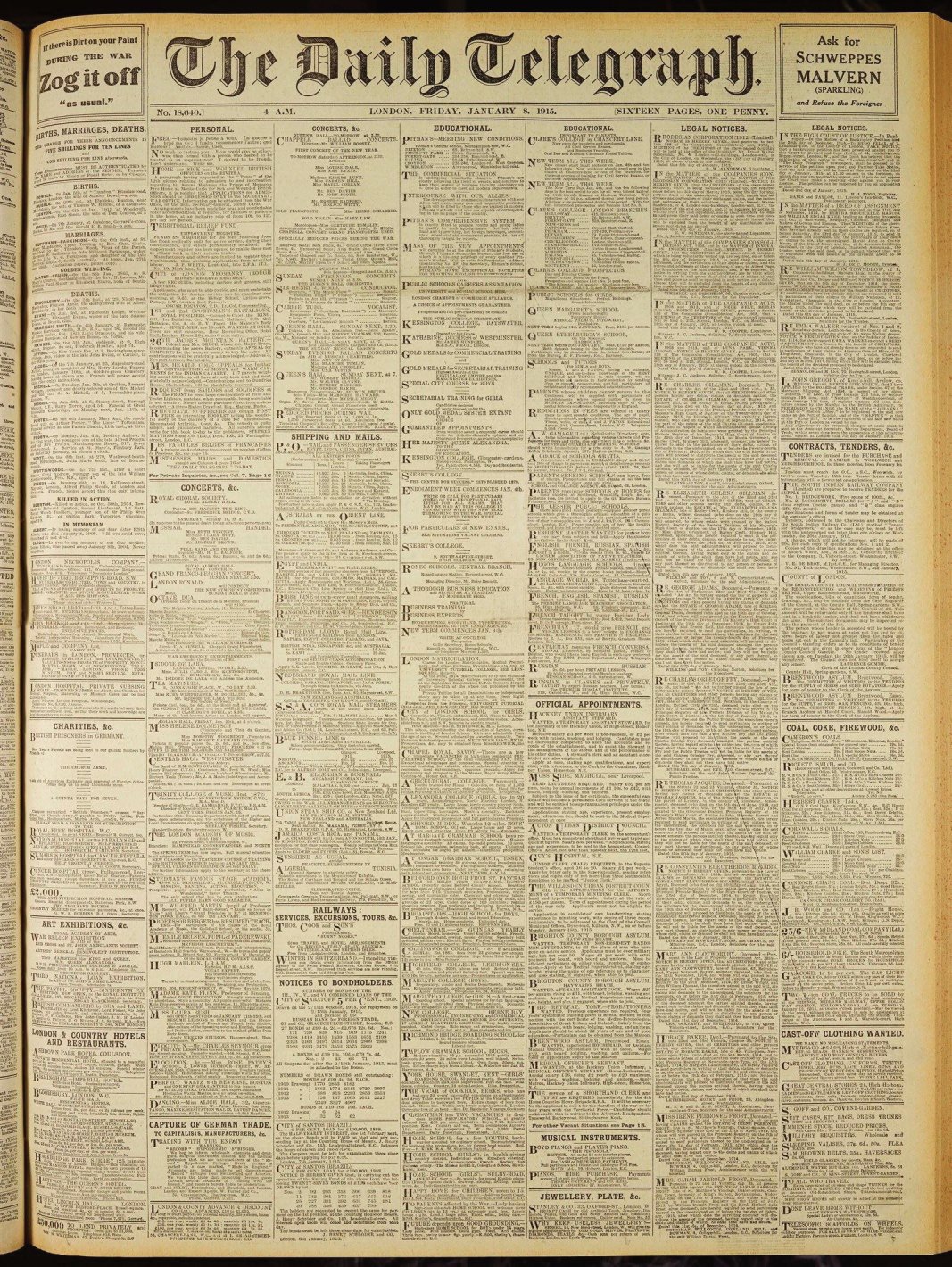 In todays Daily Telegraph: Aside from a large article on
page 11
on "Home Politics in 1915" by J. B. Firth, one of the few writers whose work would appear in the Daily Telegraph in both world wars, there was little to hint at the passing of the old year in the New Year's Eve edition. As 1916 loomed it was the subject of conscription, or compulsion as it was termed here, that led the news, as the Labour movement had a conference to debate its threat, but no member of the Cabinet had resigned over the issue –
page 9
. French reaction to the announcement appears on
page 11
. On a similar theme, "Middle Class"'s letter the previous day on national organisation was evincing great interest (also
page 9
). Also in today's paper: - Much of
page 7
is given over to action on the French part of the front, with their official account of the Battle of Champagne and the latest despatch from H. Warner Allen - King George V's request for attested men to wear an armlet bears immediate fruit in London –
page 7
- G. Ward Price's official despatch concerning the evacuation of Anzac and Suvla commences on
page 9
. Despite there being longer articles before in the paper, the decision is taken in this case to split it in two and finish it the following day - A French landing on a Greek island brings a protest from Athens –
page 9
. Meanwhile G. J. Stevens writes from there on
page 10
on how German agents are preparing the way for Bulgaria to invade the country - The Telegraph can't get enough of the experiences of British people in overrun Serbia – another report about this appears on
page 11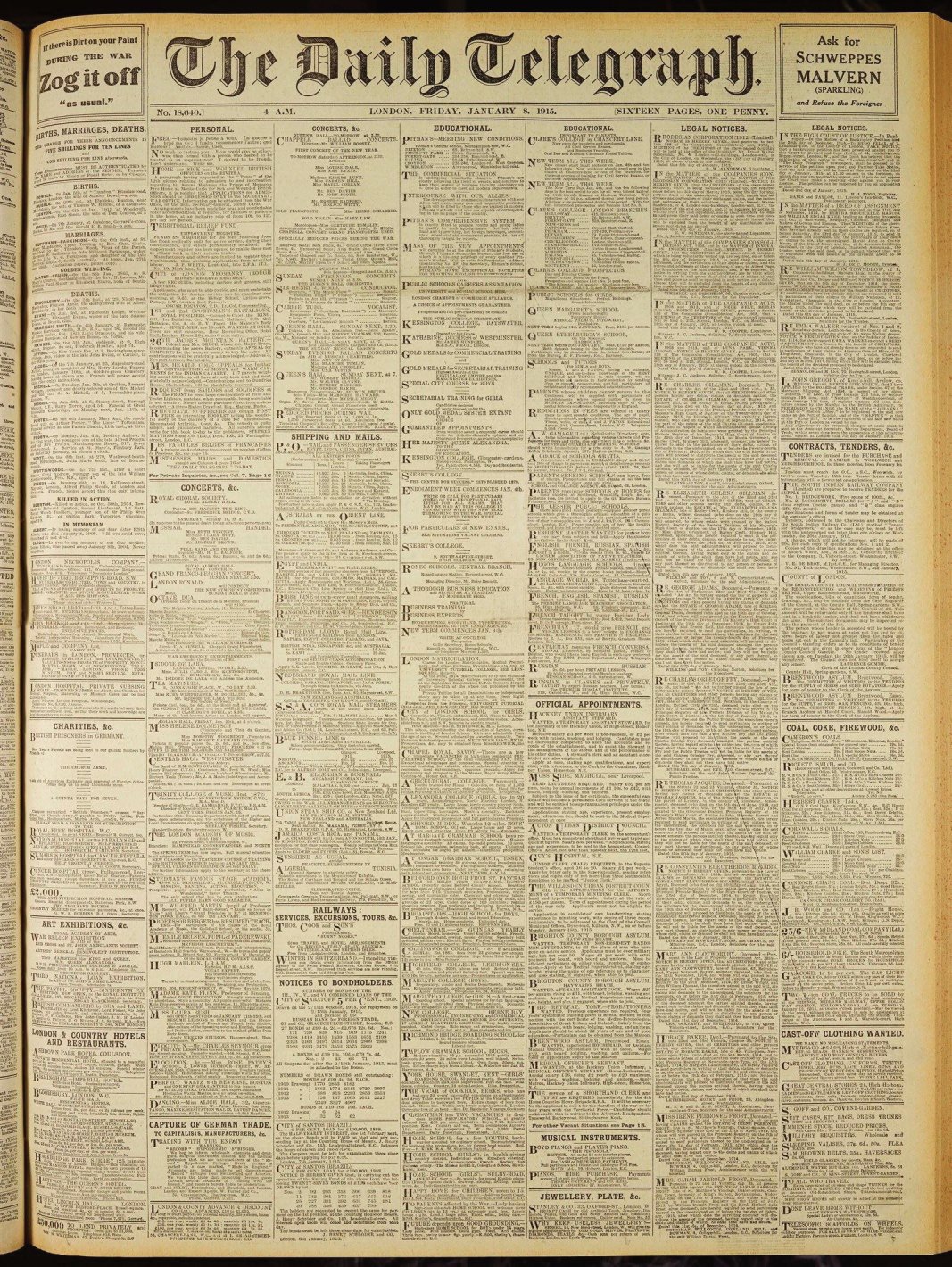 In todays Daily Telegraph. With 1915 approaching its end the paper was starting to look back on the year, with Archibald Hurd reviewing the British fleet's activities on page 7 and the Labour Correspondent writing about that field on page 10, although he was oddly reticent about referring to the strikes over the past year, limiting him to observations that some works were not outputting to capacity. Closer in time, one of the leaders on page 8 harked back to Christmas and how the celebrations impacted on children.
Looking forward, conscription appeared to be on the cards for single men, as around 600,000 had failed to attest under Lord Derby's scheme (page 9). For those who had done so, King George V expressed his hope they would wear an armlet as proof of this, which the paper thought worthy of the banner headline (same page).
Also in today's paper:
- In the courts a workman falls foul of the law for returning to finish a drink he was unable to wholly consume in the legally prescribed time due to being called away to the telephone, and a Northumberland farmer is prosecuted for shooting a carol singer – page 3
- The licensing restrictions are such that New Year's Eve in London is expected to be celebrated with less "whole-hearted gaiety," the authorities having refused an extension for that night – page 4 - A correspondent signing himself "Middle Class" writes a lengthy letter on pages 9 and 10 calling for better organisation of the country's human resources to serve the war effort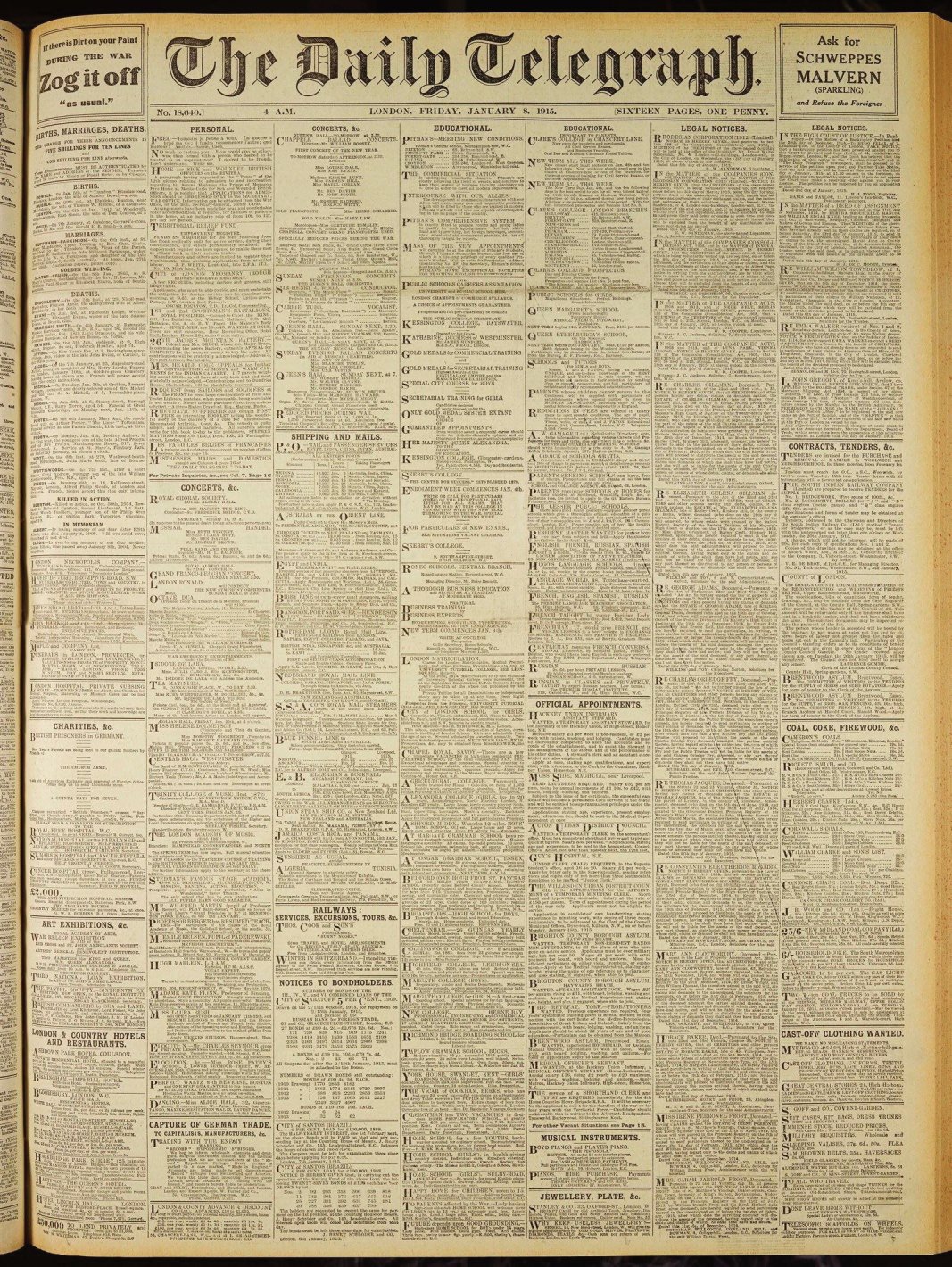 In todays Daily Telegraph: A very quiet day newswise today, so straight to the digest: - The correspondence concerning the serious shortage of medical men caused by the needs of the army comes on a close on
page 9
, with a leader on the subject on
page 6
- A French liner is sunk by an Austrian submarine, whose crew jeer the survivors –
page 7
- More on the havoc caused by the weather reported the previous day on
page 7
- Gabriele d'Annunzio writes of his mine-laying adventures on
page 8
- Germans shoot a Christmas pudding waved above a British trench –
page 8
- A report on
page 8
from British headquarters claims those sceptical that official reports are telling the truth would be convinced of their accuracy if they came out to the front. Well it would say that, wouldn't it? It also relays the necessity for more military bands to provides stimulus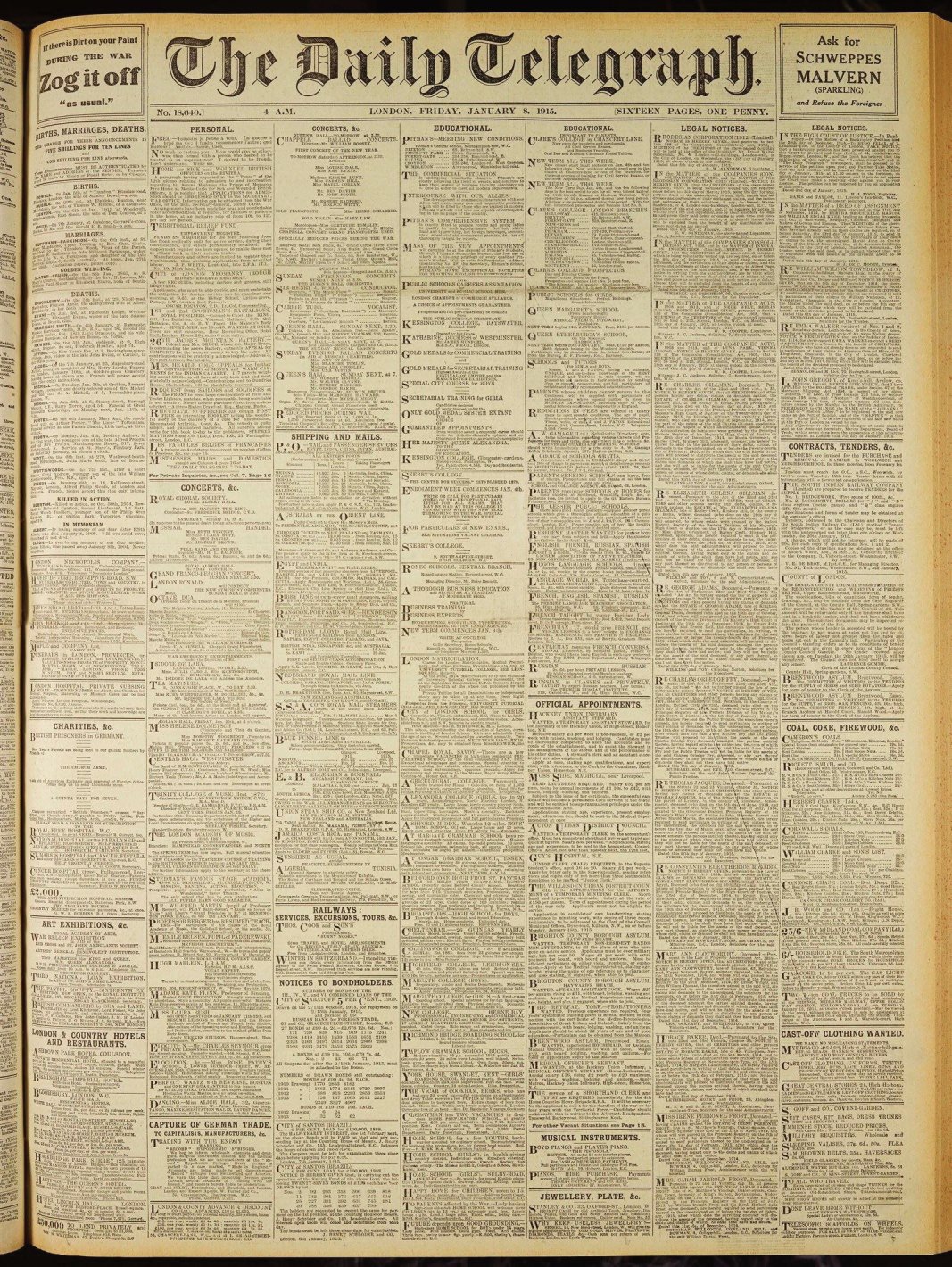 In todays Daily Telegraph: - All of
page 4
and part of
page 5
is given over to reviews of pantomimes around London - "Fox hunting has by no means completely emerged from the crisis which overtook it in the early months of the war" observes an article on the field sport's 1915/16 season so far on
page 5
- The French War Office publishes contents of letters found on German prisoners which indicate a "hankering for peace" and naturally tries to infer that this is a nationally-held sentiment as a result –
page 5
- The India Office announces a defeat for the Turks in Mesopotamia on
page 7
. Also on an Indian theme on that page, the Prince of Wales communicates a farewell message from his father to the Indian Army Corps commending them prior to their departure from France, news of which had been somewhat scarce prior to this - Two provinces secede in China as what Our Special Correspondent describes as a "remarkable situation" sees the country slides further towards anarchy –
page 7
- A dashing cavalry exploit by Russian Cossacks is relayed from Petrograd –
page 7
, whilst Bernard Pares in a delayed report writes about "sporting with fate on the Russian front" on
page 9
- A violent gale sweeps Britain, and there are also floods to contend with –
pages 7 and 8
- G. Ward Price's latest despatch from the Dardanelles on
page 9
has been rather overtaken by the announcement a week earlier of the withdrawal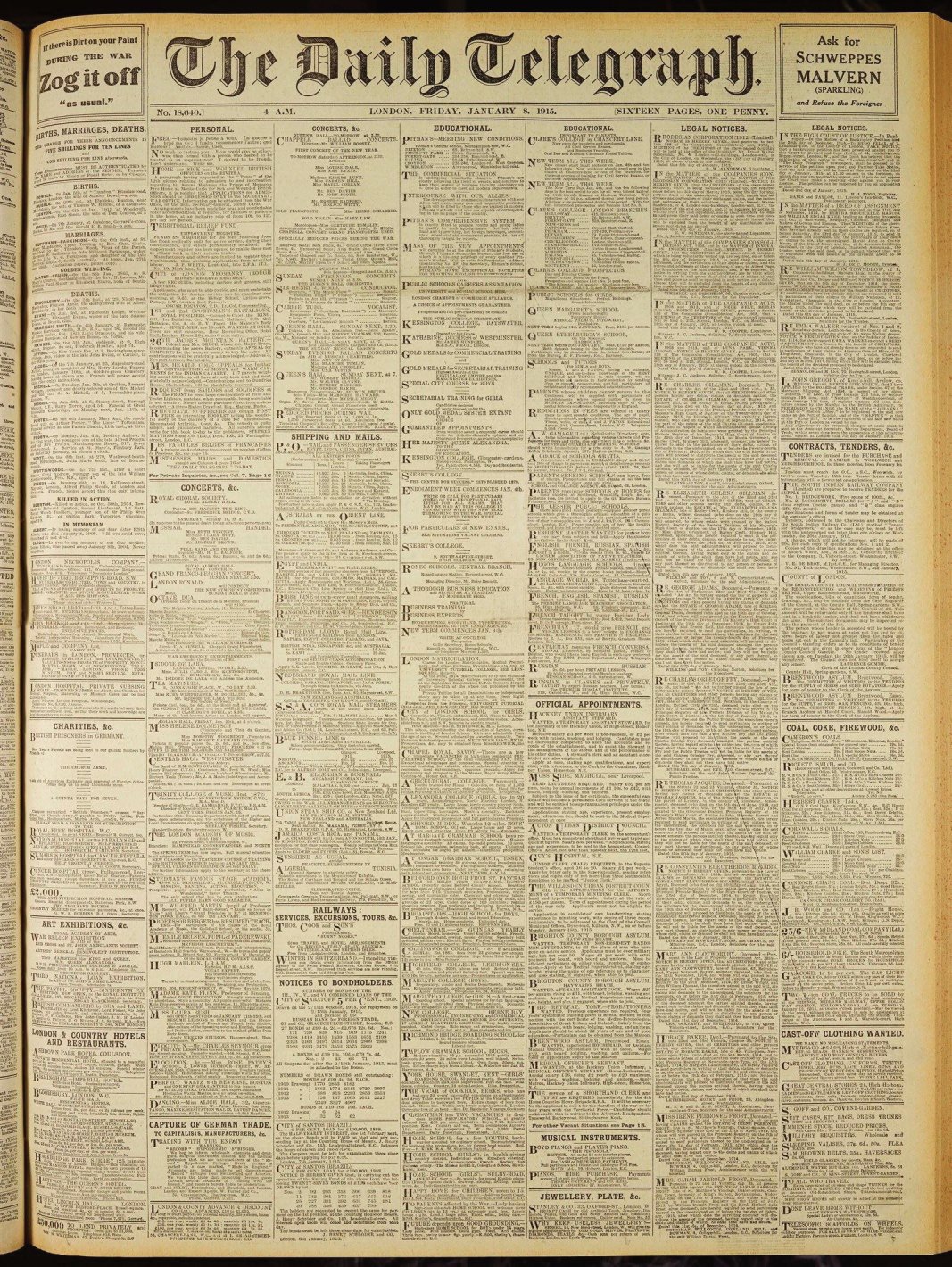 In todays Daily Telegraph: It was hardly surprising that how Christmas 1915 was celebrated should dominate today's paper. On the main news page (
page 7
) Philip Gibbs reports on Christmas in the trenches alongside to King George V's Christmas greetings to his servicemen, which naturally the paper Is quick to praise in a leader on
page 6
. On
page 4
are a number of reports on what happened back at home, predominantly in London, a report on Amsterdam on
page 9
claims it was "the saddest Yuletide on record" in Berlin, whilst reports from foreign capitals on
page 5
give an impression that the fighting hasn't stopped for Christmas, once you realise anything dated Saturday is being reported on Christmas Day itself. David Lloyd George didn't stop either, addressing a large meeting of trade unionists in Glasgow on that day (
pages 7 and 8
). However, given there was no paper printed that day a leader on how Boxing Day should be celebrated in wartime on
page 6
does seem a tad belated. Also in today's paper - His campaign may be over but Lord Derby is still busy with administration of his recruiting system, with "much useful information" issued on
page 5
- A report from an American journalist on the Serbian retreat gets reprinted on
page 8
, in an article emotively titled "A People's Agony." Poland isn't faring much better, according to Bernard Pares on
page 10
- Constantinople is "ore squalid than ever" and subject to German tyranny, clams A. Beaumont in Milan on
page 8
- Henry Ford's "peace ark" is "a veritable fiasco" according to the Scandinavian press on
page 9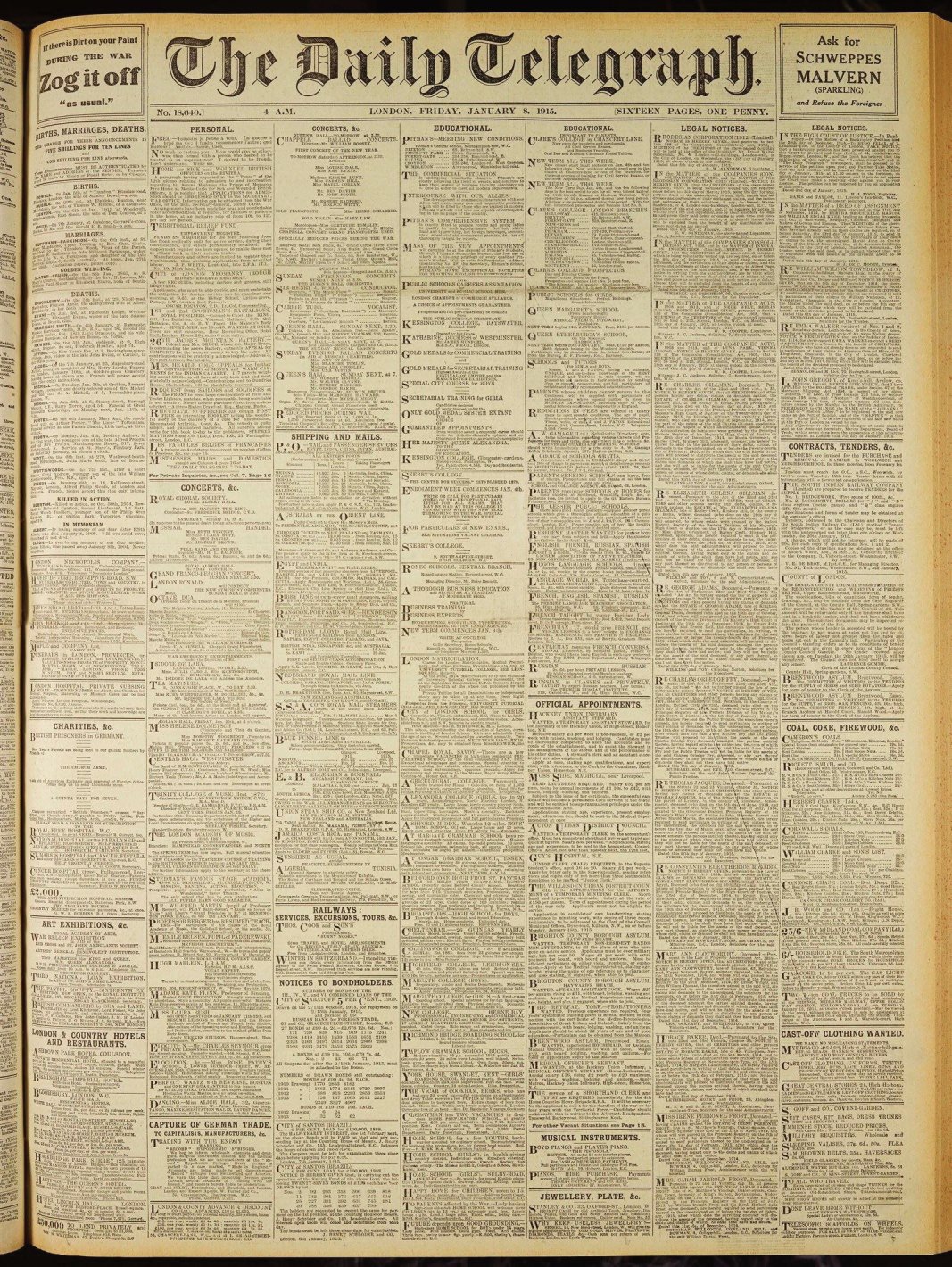 In todays Daily Telegraph: "Christmas, which in olden time came to us with a message of bountifulness and good cheer, must change its mood and bring home to our hearts different moral. We must not waste, we must not spend beyond proper and inevitable limits; we must realise how tremendous is the task before us, how crushingly huge is the warfare to which we are committed. Every man can help only so far as he realises the supreme duty of sacrifice." The Telegraph's Christmas leader, found on page 6, made no bones about how the festival was occurring at a time of stress for the nation, but did rather tangle itself in knots over how it should be celebrated. After all, after this sober passage it goes on so say "There is, however, another and a happier duty which is required of us at a season like this. There is no virtue in a gloomy face; nor is any particular strength to be derived from merely melancholy thoughts. We must teach ourselves the lesson of hopefulness and cheerfulness quite as much as the lesson of economy. It is an easy point of criticism to urge that the most foolish attitude to the war is one of groundless optimism, and that it is wiser and better to know the worst. Everyone must acknowledge, of course, that it is mere stupidity to rejoice when there is no occasion for rejoicing. But of the two extreme moods we fancy that pessimism is the worst – the most enfeebling, the most debilitating of all mental states." However, it then goes to sober the mood again, which could well make readers a bit confused as to what they should be doing the following day, except perhaps go to Church, as it stressed the religious side of the season. Meanwhile on
page 7
Philip Gibbs gives an up-to-date article on "Christmas in British Trenches," which accentuates the positive side to back up the middle section of the leader. Also in today's paper - Another report of a record mailbag of Christmas mail to soldiers at the front on
page 5
-
Page 6
has a festive wartime poem entitled "London chimes" - Speculation that the Austrians are readying an attack into Greece on
page 7
- Official casualty figure for the Dardanelles campaign reveal that the number is over 112,000 –
page 7
- Details of the sinking of a Japanese liner in the Mediterranean stage that all on board were saved, which is impressive given that no warning was given by the submarine that sank it –
page 7
- Sir John French gets an enthusiastic send-off from the soldiers in France, reports Philip Gibbs on
page 7
- Dramatic evidence is given in a court case concerning a Lieutenant being tried for the murder of a Canadian sergeant on
page 8
- An artist described as the "Last Pre-Raphaelite painter" has an obituary on
page 8
- A Christmas manifesto by German Socialists refers to "blood-stained monarchs" and says "the Kaiser must fall" –
page 9
- An article on
page 9
waxes lyrical about the new soldiers' buffet at London Waterloo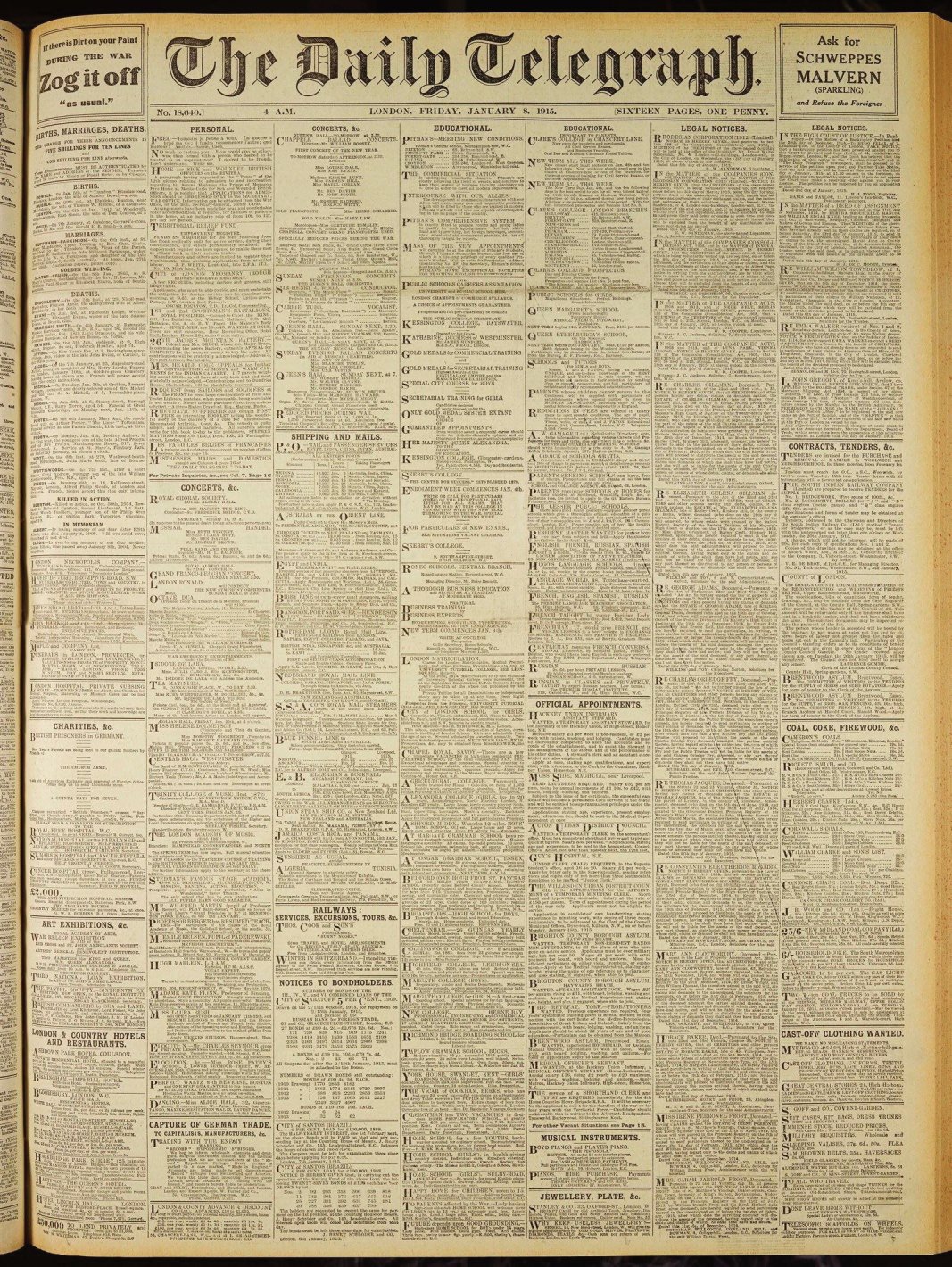 In todays Daily Telegraph: The day before Christmas Eve and the season is really making its presence felt in the paper.
Page 11
has an article entitled "Soldiers' Christmas" adjoining a Christmas plea on behalf of sick children, whilst "A Londoner" writes on
page 7
on "Christmas in hospital." Meanwhile with the number of men already on service it is hardly a surprise to see a "huge Christmas bag" of mail sent to them being announced on
page 9
. Add in a report on wounded soldiers being treated to a Christmas party at the Law Courts on
page 3
and the less happy news that London dairymen have to abandon the tradition of a complimentary Christmas pot of cream to their customers, due to supply problems on
page 4
and certainly a number of facets of the season are being reported upon. No speculation though as to any repetition of the famous truce of a year earlier though, somewhat curiously. Also in today's paper - Radicals and Nationalists attempt to filibuster the Commons vote on granting a million more men to the army, leading to a sitting ending with a vote at 5.30am –
page 6
. - The clergy and military service letter debate comes to a close on
page 7
, but a leader on
page 8
makes plain the Telegraph's view on the matter - Assorted bankers produced a manifesto concerning the nation's needs and the duty of all to fulfil them –
pages 9 and 10
- More on the heroism of British nurses in the evacuation of Serbia on
page 10
today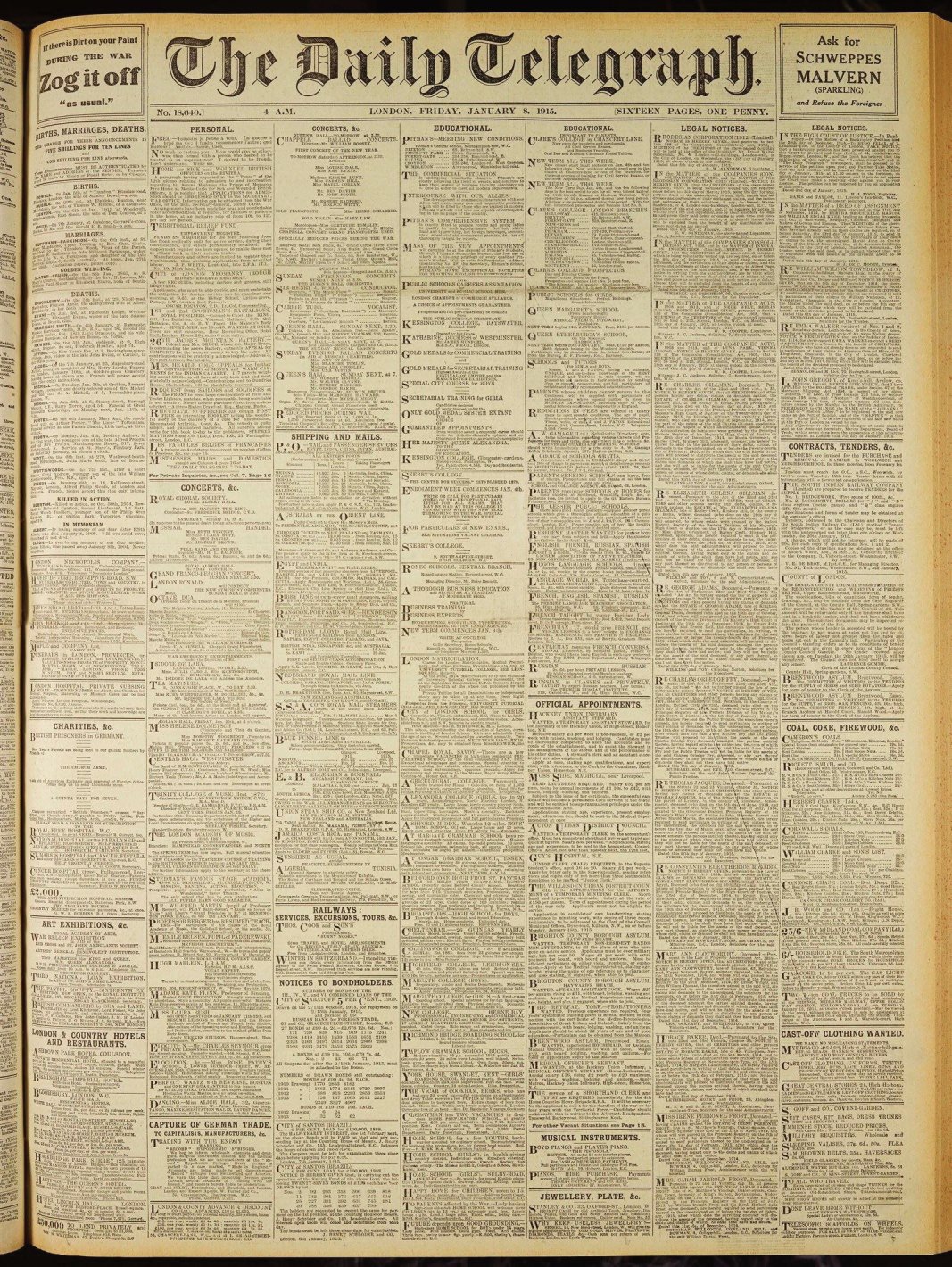 In todays Daily Telegraph: Whilst the House of Commons was voting on adding another million men to the British Army, and Herbert Asquith revealed that "in certain parts of the country young unmarried men had not responded as it was hoped they would respond," to the recent recruitment scheme, thus causing the spectre of compulsion to rear its head again, H. Warner Allen reported from France that he believed there had been 4,500,000 German casualties, two-thirds of which amounted to "permanent wastage" on the German side so far in the war. Never mind German figures didn't back this estimation, they are of courser a pack of lies. With the Allies not appearing to have suffered much in their Dardanelles withdrawal – Asquith stating the casualties amounted to a mere 3 wounded – no wonder if the American press saw articles like these on
page 9
it would conclude, as in the case of an "impartial" report in the New York Tribune reported on
page 10
, that the Germans are "already defeated." Also in today's paper - The Press Bureau issues details as to how the system of appeals for postponement of service under the group system of enlistment will work –
page 7
- A plea by a German to President Woodrow Wilson for food shipments to aid German babies gets short shrift from our New York correspondent on
page 7
- The Germans make another gas attack on the British front, but British Headquarters dismisses it as a complete failure –
page 8
In todays Daily Telegraph:"All the troops at Suvla and Anzac, together with their goods and stores, have been successfully transferred, with insignificant casualties, to another sphere of operation." Despite all the stories there had been since the Gallipoli landings suggesting advances had been made, the reality was somewhat different, but despite the efforts of Ellis Ashmead-Bartlett to hint at the truth, the censor had managed to camouflage this. However, the leakage of the news that Lord Kitchener had gone there himself after the new commander, Sir Charles Munro, had recommended withdrawal suggested that all was not well, and the official announcement above (see
page 9
) confirmed this. Not that it was actually a full withdrawal from the operations that was being announced, as the War Office went on to claim "by this contraction of front, operations at other points of the line will be more effectively carried out." And equally naturally, a leader on
page 8
sympathised with "one of the most difficult decisions ever imposed by necessity upon British generalship" and praised the soldiers who had fought there, but even it had to accept that as far as most people were concerned the campaign had a tragic waste of life and was best discontinued. Also in today's paper - An article on
page 3
tells of the "Romance of the banana" - There is a major cliff-fall near Dover –
page
4. Perhaps surprisingly it isn't ascribed to some sort of German plot - Hotspur takes time out of reporting on horse racing to report the spending of £12 million on horses and mules by the British Government in the USA, and suspects this is understating the actual amount –
page 5
- British hostages in Syria are made to suffer after a cinema in Damascus accidentally shows a film about Australian troops –
page 5
- The Greek army is discontented by the lack of action against the Bulgarians and the prospect of potential incursion, and King Constantine is blamed –
page 9
- Herbert Asquith announces a postponement of the release of figures concerning Lord Derby's recruitment scheme, due to the complexity of the task –
page 9
- David Lloyd George's speech on the work of the Ministry of Munitions sees him at times "at his very best" –
page 9
- A. Beaumont in Milan hears about the experiences of women of the Third Serbian Relief Fund Unit on
page 11
- Rumours mount as to German activity on the Western front –
page 11
- The Telegraph's suggestion of people extending hospitality to lonely soldiers from overseas stranded in London at Christmas generates such a positive response that the YMCA had to open a special department to deal with the subject –
page 10
. Also on a festive note, 1,000 children of servicemen attend a party at Windsor castle (
page 11
, with a photograph on
page 3
) - Ships of the Grand Fleet contribute dolls to a show in Thorpe Bay and they raise over £40 for charity –
page 11
- The resorts round-up on
page 12
gives an optimistic view of the Christmas season, and an adjacent article gives a London-centric guide to public transport of this
In todays Daily Telegraph:  Allied reporters expect Bulgaria to attack Greece –
page 9
. Greece meanwhile refutes newspaper reports suggesting any lack of faith with the Allies and German corruption of the king, politicians and military men (same page). A leader on
page 8
is sceptical about how truthfully she can do this, but takes it as proof of Greece's return to good faith - Sir John French sends a farewell message to his troops in France –
page 9
- The latest foiled German plot in the US is one to blow up the Welland Canal –
page 9
- "A quieter or more unostentatious wedding it is hard to imagine" says the report on Woodrow Wilson's nuptials on
page 9
- A lecture on the war suggests the Prince of Wales has been causing military authorities anxiety with his risk-taking –
page 9
- "Little time has been lost by the War Office in calling up the first batch of men, who, after being attested under Lord Derby's scheme, passed into the Reserve," with the first men affected having to report for duty on January 20 –
pages 9 and 10
- An American journalist reports on how German prisoners are treated in England –
page 11
. No prizes for guessing the report is favourable in tone - Satisfactory supplies of Christmas fruit are reported –
page 14
/